There isn't a day that goes by that a motorsport journalist, broadcaster, creator or influencer doesn't say 'This will make for a great episode of Drive to Survive' while the latest F1 drama is unfolding.
The August 'Silly Season' lived up to its name, with the new driver market churning out more and more news stories with Netflix's cameras in tow. Yes it makes great viewing for those new to the sport, but for F1 lifers, we've seen this all before.
Drive to Survive is a Netflix documentary series which has captured the previous four championships and has been renewed for a further two seasons. F1's exposure to a broader audience through the show has resulted in a significant increase in interest in the sport.
As James Allen, President of Motorsport Network puts it, "It was no secret that F1 had been struggling for years to attract younger fans and females especially… the new F1 management team's digital first approach and the funnel effect of projects like Netflix "Drive to Survive", are engaging a new generation of passionate F1 fans."
This interest is evident with an increase of races from 22 in the 2022 season to 24 in 2023 including three races in the US with the Las Vegas GP headlining. But how does this recent influx of fans fit in with the existing wider Formula 1 fan landscape?
The Landscape:
Motorsport Network's most recent fan survey shows a high percentage of established fans, 85%+ of respondents were fans who have followed F1 for at least six years. Latest figures show a sharp increase in the percentage of participants following F1 for five years or fewer, tripling from 11.7% in 2017 to 34% in 2021. The Drive to Survive effect in quantifiable terms.
As a result and in very rudimental expressions, we can put F1 fans into the following categories:
Newbies:

New to the sport. Love Drive to Survive. Love Twitch. Miami baby.

Casual Fans:

Knows the difference between DRS and KERS

.

Taken up golf because Lando loves it. Attends GP when in the country they're from.

OGs:

Senna or Prost?

Knows the ride height limit in millimeters. Bring back V10s.
With Drive to Survive attracting Newbies and existing motorsport focused media outlets, satisfying the OG's need, how does the Casual Fan fit into the media landscape?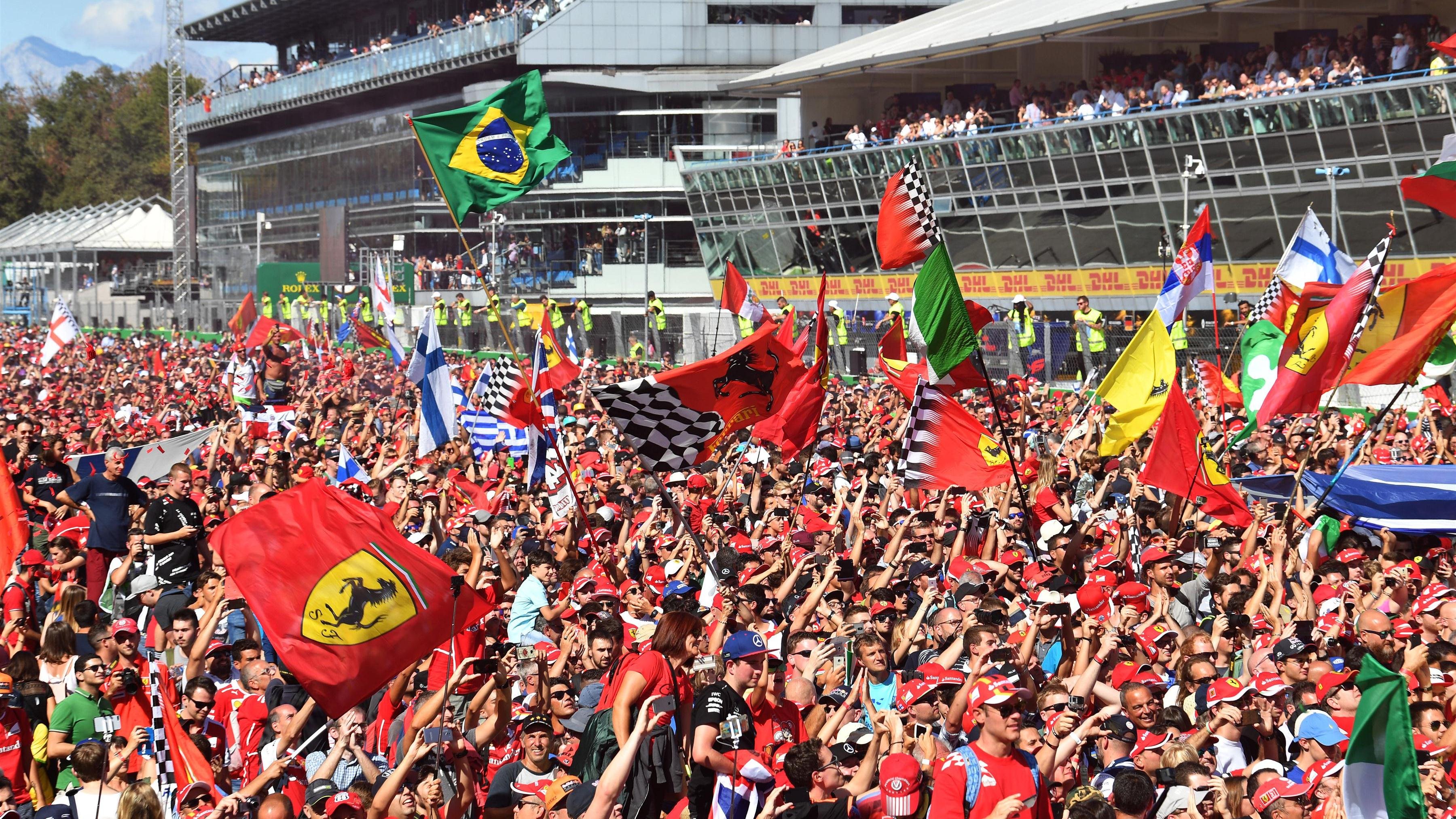 Why are Casual Fans such an interesting demographic?
It is commonly acknowledged that a fans interest in a sport diminishes when the match or season ends. In Formula 1's case, we mean outside a race weekend.
A recent Deloitte survey has found that this interest doesn't entirely fade:
65% of fans say they want some form of content or information at least monthly during the off-season.

60% of fans say that having a great "year-round experience" would make them more likely to be more engaged with the team in the coming season.

40% of fans who only engage once a month on non-match/race days spend more than fans who have no engagement.
In short, more engagement equals more fan spend. Converting Casual Fans into OGs is what Formula 1 and its teams should strive to do.
This however, is not being done. Take the recent August summer break, using our social listening tools or a simple Twitter search shows that F1 fans have been crying out for content and involvement. There is a vacuum of activity for Casual Fans to engage with.
The Opportunity with Casual Fans?
To handle the current media environment, teams should understand where fans are going to read, watch, listen, and interact with them. Fans go to different channels depending on the content they're searching for and their typical media consumption habits.
A Deloitte study recognised that fans informational needs can be split into two groups:
Rapid Update:

Fans who use sports news websites, television, and social media to get a quick-fix

In-depth Analysis:

Sports news websites and television remain the top preference for fans when seeking detailed analysis.
Relating to the F1 audience, over four fifths of F1 fans are watching more than 13 GPs per season. During a race weekend, over 85% of fans watch full race content from lights to flag, no decline in viewing duration among younger audience.
Unsurprisingly, the usage of all media channels falls outside of F1 race weekends as specialist websites and social media platforms overtakes TV, both paid and free-to-air, in usage.
This is something F1 are already addressing, it's not only about producing content, it's also how it is delivered: "We are focussed on the content we deliver and the way we deliver it. Our strategy is to keep pushing hard in this area. Continuing to provide rich and engaging broadcast coverage but growing the content in other less traditional forms through social media, partnerships such as Netflix – which has been a huge success – and through consumer and more mainstream media." Stefano Domenicali, CEO Formula 1.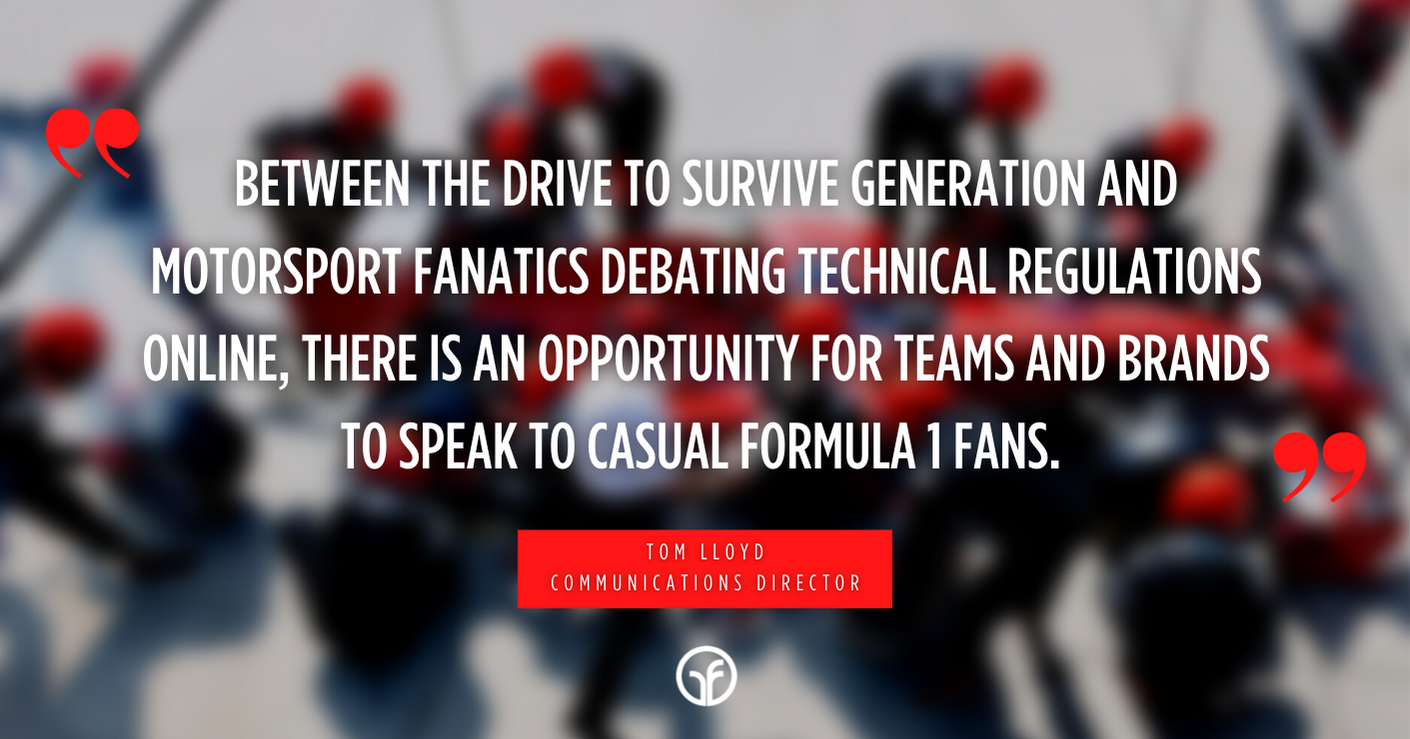 What's being done?
It's not just Formula 1 who need to make strides in this area, teams need to capture a captive audience. Oracle Red Bull Racing recognise the need for fans to connect with the team and their drivers during race weekends and crucially in the moments in between.
Oliver Hughes, Chief Marketing Officer, Red Bull Racing explains: "We are seeing an evolution in how we engage with our fanbase and there are huge efficiencies that we're seeing by not spending on the media so that we can invest in the content. I think that's really important."
As a result, Oracle Red Bull Racing launched a loyalty program, The Paddock, a free online platform that gives fans personalised interactions with the team in late 2021.
Post launch, it saw an explosion in fan participation, with loyalty membership sign-ups increasing 950%. Beyond just signing up, fans are highly engaged, for example more than 35,000 redeemed digital rewards before the end of last season.
Building a clearer picture of the fan profile has proved invaluable allowing more effective communications. It permits the team to create and tailor content rather than cater a one size fits all approach.
Next Steps for Brands:
What are current brands doing in F1? Well not a lot to target the Casual Fan. Of course Covid has affected Formula 1 sponsorship partners' budgets and but we've noticed that activation levels are returning to the pre-pandemic levels and in some cases, even more.
So, while Newbies can watch the latest Drive To Survive series, OGs can read about the new flexi-floor regulations in Autosport, it's our firm belief that there is a gap in the market for teams and brands to attract Casual Fans.
In short, this is can only be achieved by delivering activity through extensive channel analysis and at the identified frequency. Check out what we've been doing with McLaren's partner Splunk or Williams' Bang & Olufsen #RaceTracks content series to get a better understanding of timely content, pitched for the Casual Fans. Need to know more?