THG selects Right Formula to activate its first-ever sports sponsorship within Formula 1

Right Formula will deploy a range of services to deliver the programme, including strategy, communications, digital, hospitality & events

The multi-year agreement was launched at the 2023 Austin Grand Prix
THG has selected global sports marketing agency Right Formula to activate the brand's first-ever multi-faceted sports sponsorship, with Williams Racing in Formula 1.
THG is a vertically integrated, digital-first consumer brands group, retailing its own brands in beauty and nutrition, plus third-party brands, via its complete commerce solution, Ingenuity, to an online and global customer base.
THG has partnered with Williams Racing to embody the shared DNA of two dynamic British organisations, each boasting a legacy of building leading global brands in their respective domains and delivering elite performance through data-driven technology and innovation.
Right Formula won a competitive pitch to activate the Group's multi-year agreement, which sees THG become Williams Racing's Official Partner across Nutrition, Technology & Ecommerce and Sustainability. Right Formula will provide a 360-degree service to maximise the launch and increase the effectiveness of its partnership through strategy, communications, hospitality and event activation.
The partnership was officially launched ahead of the 2023 Austin Grand Prix with the support of Right Formula who delivered a Monster Truck in a one-off Williams Racing and THG livery. Williams Racing drivers, Alex Albon and Logan Sargeant, were challenged to find their best American ride and bring it to the track to launch the partnership. Arriving in a Williams Racing, Myprotein and Ingenuity Commerce-branded Monster Truck, Logan came out on top.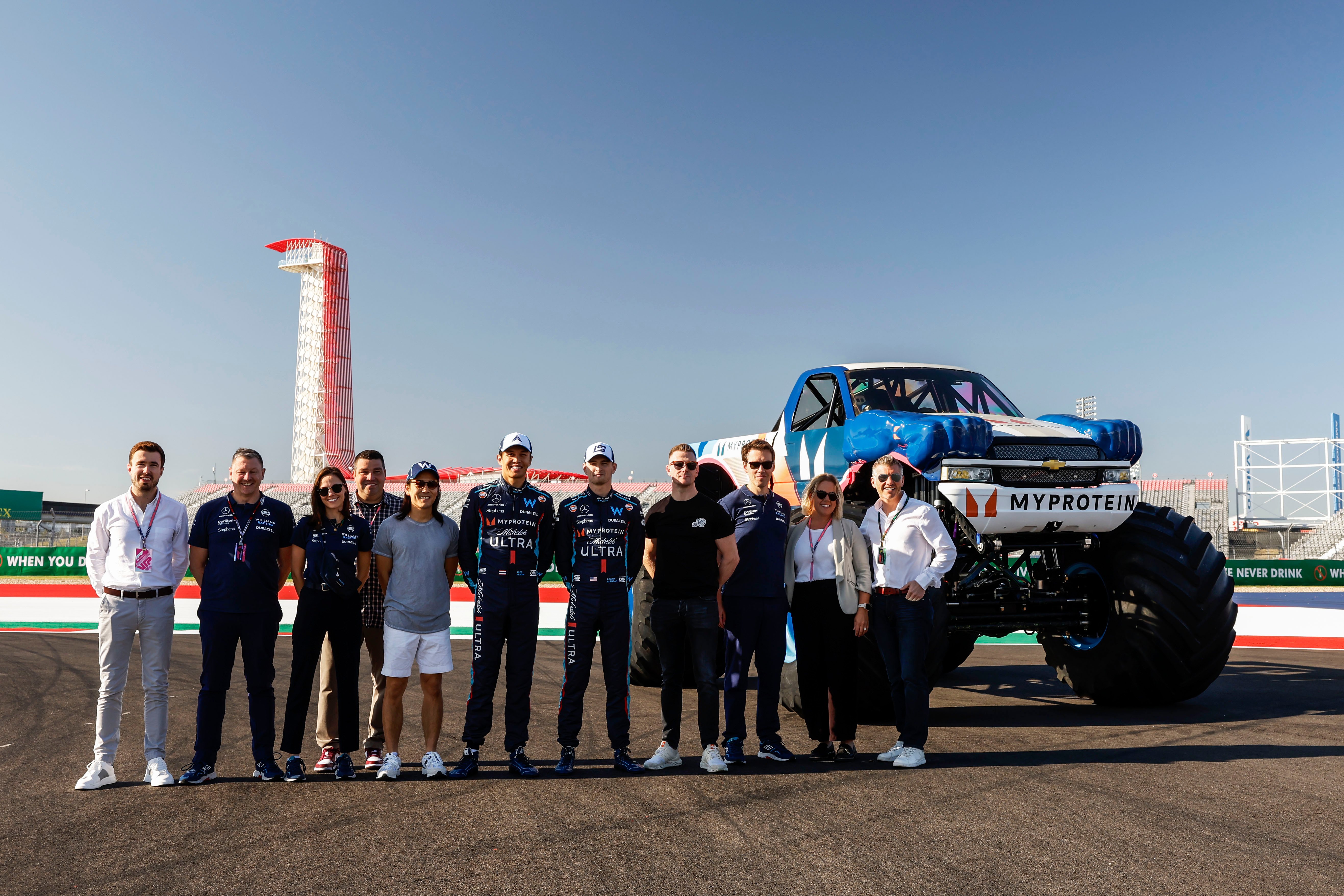 Robin Fenwick, CEO and Founder of Right Formula, said: "We are excited to be working with THG to activate its innovative partnership with Williams Racing that will see them promote three businesses through one team: Myprotein, Ingenuity and THG Eco. Right Formula's reputation is built on working with major brands like THG as they enter and navigate the sports sponsorship arena. Today's Formula 1 audience is younger and more digitally engaged than ever before, making it an exciting time for THG to get involved."
"Right Formula's experience in Formula 1, industry relationships and digital expertise makes it the perfect partner to activate our partnership with Williams Racing", said Steven Whitehead, Group Commercial Director at THG. "The team at Right Formula have already acted as invaluable partners as we've worked together to launch this exciting partnership. We look forward to using all their services to bring this to life over the next few years."
ABOUT RIGHT FORMULA
Right Formula is an award-winning Global Sports Marketing Agency that handles all aspects of sports sponsorship to ensure that chosen partnerships deliver against their desired objectives. The agency was founded in 2009 on the principal of being indispensable to our clients by employing some of the best industry talent. Right Formula comprises over eighty team members across commercial, consumer activation, events, hospitality, internal engagement, communications and sustainability, with a variety of brand clients, including Aggreko, Bang & Olufsen, Casio, ExxonMobil, Hantec Markets, Hilton Hotels, Loch Lomond Whiskies, NTT Data, Oracle, Pirelli, Qatar Airways, SAP, Splunk, Stoli Group and Vodafone.
ABOUT THG
THG is a vertically integrated, digital-first consumer brands group, retailing its own brands in beauty and nutrition, plus third-party brands, via its complete commerce solution, Ingenuity, to an online and global customer base. THG's business is operated through the following divisions:
THG Beauty: A digital-first brand owner, retailer and manufacturer in the prestige beauty market, with a portfolio of own-brands across skincare, haircare and cosmetics. Through its retail websites, including Lookfantastic, Dermstore, Cult Beauty and the beauty subscription box brand GLOSSYBOX, it is a route to market globally for over 1,300 third-party premium brands. THG Beauty also operates prestige spa and experience venues, in addition to luxury clothing and homeware D2C sites.
THG Nutrition: A group of digital-first Nutrition brands, which includes the world's largest online sports nutrition brand Myprotein and its family of brands (Myvegan, Myvitamins, MP Activewear and MyPRO), with a vertically-integrated business model supported by global THG production facilities.
THG Ingenuity: Ingenuity provides a complete commerce solution tailored for enterprise brand owners. Its solutions are designed to accelerate growth across its three pillars of technology, marketing and operations. With a heritage in building direct to consumer brands, it is uniquely positioned to bring pertinent, pragmatic, and global expertise across all aspects of commerce.